Sorry to steal a line from Ron Popeil, but it's so fitting, because I had a lot more I wanted to tell you–yet my last post was so very long that I thought it best to leave the rest of my thoughts for another day. That day is today.
First, a quick update about the dogs, starting with our youngest: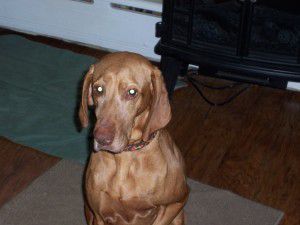 Little Miss Meadow, looking cute.
I realized earlier this month that Meadow's guestimated age is now eight and a half! That makes it official…every animal in my house is now a senior. Sad, isn't it? But the good news is, many Vizslas live till fifteen or sixteen years old, so when you look at it that way, she's really only middle aged, and like all middle aged beings, she's starting to have her aches and pains. You see, Meadow's been dealing with a slight limp since January, when she must have twisted her leg the wrong way the first time it snowed. But don't worry, it's nothing serious, and it's barely visible at his point–only when she first gets up from lying down. She's had x-rays and two separate tests to rule out Lyme disease, and my vet believes it is just a minor soft tissue injury…but those soft tissue injuries, they take a long time to heal…and so she's still on leash rest.
I don't think she minds though, because she now only takes very short walks, every other day, just to keep her muscles working while she's on the mend…and if you've been following this blog for a while, you know that she's not a big fan of winter anyway and doesn't mind NOT being dragged out on long walks in the snow. (And yes, it's snowing today, on the first day of spring!) Other than her leg, Meadow is doing quite well–she is still Prozac free since November. Can you believe it? She is soooo different from the dog we adopted nearly five years ago, it just blows my mind. And none of it can really be credited to us….she's just a resilient little dog. That, and time.
Toby too is dealing with an injury, also since January.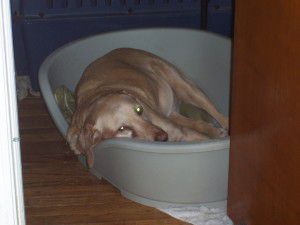 Toby, chillaxin in his OWN bed for a change.
He somehow scratched the cornea of his eye…doing what…god only knows. I never saw him crash into anything, but Toby has never been graceful, or very aware of his surroundings. We've tried many treatments now with our regular vet, and the eye is finally showing signs of healing, but as my vet himself said, "It's like watching grass grow." But as long as it looks a little better each week, rather than getting worse, my vet says we can hold off on seeing a specialist, because there's no risk of him losing his eye, and it's not infected. It's just healing incredibly sloooooow. The good news is, Toby's been a trooper through the whole ordeal, and his Labrador nature really shines through. He flops on his side so we can give him his eye drops, and he holds out his paw to greet the vet and his techs during his weekly check-ups. I certainly would not put up with the treatments and medications as well as he does…and I never feel that happy about visiting my own doctors.
Other than his eye, he's hanging in quite well for an eleven year old Lab, and he still keeps me active. I actively chase him from the litter box, the dog poop, my counters, the garbage, and from digging up carpets, day in, and day out. I wouldn't have it any other way.
At fifteen, Leah is still doing amazingly well, other than the accidents that I've mentioned quite a few times now on the blog. Sorry for the depictions, but it's hard not to bring them up, since the clean up is now very much a part of my daily life. But, Leah has got "the old" and it's to be expected.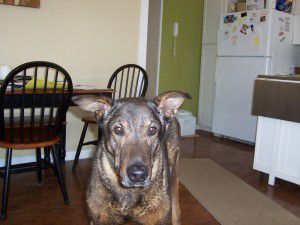 I'm like a hundred, in doggie years
Given her age, if that's her only major issue, who can complain? I mean, she's got her past issues to contend with, like not loving children so much, and being unsteady on her legs, but nothing really new has cropped up, medically, behaviorally, or otherwise (pause while I knock on wood). She's still the same Leah I fell in love with over eleven years ago.
Oh, and in case you're all wondering, she's still sporting her new doggie tat.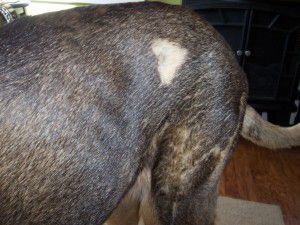 The patch that never grows back.
I liked her little haircut so much that I decided to get my own chopped off. Unfortunately, I don't photograph as well as my dogs, especially those selfies, but I tried to get a decent shot of my new style. It's really the same style actually, just a lot shorter, and easier to maintain.
It's good to have less to maintain, because things have been hectic lately, and it's not even my busy season at work! Wondering why? Do you remember that life changing event that I've mentioned time and time again since last summer?
Well…it's finally occurred.
Nick and I begged, borrowed, and borrowed some more…so that we could purchase the karate studio where he works…and we are now the proud owners of Cutting Edge Kempo Karate. Nick, of course, is still teaching classes, so not much has changed on that end (other than some great new ideas that he is slowly rolling out), but I've taken over the position of bookkeeper for the business. And why not? I already do the same for my family's business, so why should we pay an outside person to do a task I already know how to do, and best of all, when I can do the work for free?
Speaking of working, you might be wondering what I'm working on…writing-wise. The truth is, nothing. Try and try and try and try some more, I just haven't had the passion to sit in front of the keyboard ever since I got sick. But, the good news is, I've been feeling just amazing (in case you didn't read my last post), and my energy levels are improving every day.
I'm hoping this means that my creativity won't be far behind…because I have a really neat idea for a dog-centric young adult novel that I want to get moving on.
In the meantime, I've decided to keep myself busy by reading…something I used to enjoy immensely, but over the years, I seem to find less and less time for. I went to Barnes and Noble a few weeks back and wandered the young adult section to see what kids are reading, and then I just picked up a random book that looked interesting: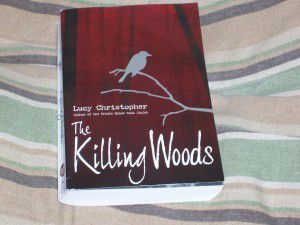 The Killing Woods
I just finished it, and I have to say, this is one of the first YA novels I've read, and I enjoyed it so much that I'll definitely be checking out other books penned by Lucy Christopher. And now that I've closed the cover on The Killing Woods, I'm gearing up to start my next sure-to-be-good read:
A while back, I mentioned that I read James Viscosi's fantasy book, Dragon Stones, which I absolutely loved, so I'm very excited to dive into his recently-released-in-paperback: Shards. Once through with that, I plan to pick up it's sequel, Ravels, (also available in paperback). The reason I keep mentioning "paperback" is that I've been hounding Jim waiting patiently for this book to be available in this format, because the one thing I can't stand is reading on a kindle. I stare at the computer enough, (and now, with the new business, I'll be staring at it even more), so I prefer to hold an actual book in my hands when I want to unwind.
And now that I've updated you on everyone…with mostly good news for a change…I'm off to go pick up that book and curl up on the sofa with Cinder, the annoying adorable cat pictured above.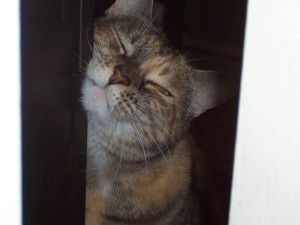 Don't forget Mew…the NOT so annoying cat. She's doing well too!